Dual Intel Hex Core Xeon X5690 3.47Ghz (# of Cores-12, # of Threads-24) / 36GB DDR3 ECC / 2 x 300GB 15K SAS HDDS / DVD-RW / Quadro FX-6000 6GB PCI-E V/C / Windows 7 Pro COA / DELL Warranty Till March 2015

Accelerate your entire workflow
The NVIDIA

®

Quadro

®

6000 professional graphics solution is a true technological breakthrough, delivering up to 5x faster performance across a broad range of design, animation and video applications¹. Built on the innovative NVIDIA Fermi architecture, the Quadro 6000 is the first professional-class GPU to integrate high performance computing capabilities with advanced visualization techniques, transforming modern workflows.

Featuring new Scalable Geometry Engine™ technology, Quadro can deliver an unheard of 1.3 billion triangles per second, shattering previous 3D graphics limitations². With Quadro solutions, your work flows -- you can design, iterate and deliver higher quality projects in less time.
The revolutionary Quadro GPU architecture
Modern applications harness the latest NVIDIA

®

CUDA™ parallel processing architecture of the Quadro 6000 solution to deliver performance gains up to 8x faster when running computationally intensive applications such as ray tracing, video processing and computational fluid dynamics. For high-precision, data-sensitive applications, Quadro 6000 is the only professional graphics solution with ECC memory and fast double precision capabilities to ensure the accuracy and fidelity of your results. From medical imaging to structural analysis applications, data integrity and precision is assured, without sacrificing performance.
Supercharged professional applications
NVIDIA professional software technologies, from CUDA software to application acceleration engines, combined with Quadro, accelerate applications from companies such as Adobe, Autodesk, RTT, Dassault Systemes, Bunkspeed and many more.
¹ Performance increase measured running ViewPerf 11 on a Quadro 6000 v. Quadro FX 5800 equipped workstation.
- See more at: http://www.nvidia.com/object/product-quadro-6000-us.html#sthash.6zdF4WtG.dpuf
GPU Specs:
NVIDIA Quadro GPU Quadro 6000
CUDA Cores 448
Form Factor 4.376" H x 9.75" L / Dual Slot
Gigaflops (Single Precision) 1030.4
Gigaflops (Double Precision) 515.2
GPU Memory Specs:
Total Frame Buffer 6 GB GDDR5
Memory Interface 384-bit
Memory Bandwidth (GB/sec) 144 GB/s
Display Support:
Dual Link DVI-I 1
DisplayPort 2
# of Digital Outputs 2
# of Analog Outputs 1
Stereo (3-pin Mini-DIN) Yes
Maximum Display Resolution Digital @ 60Hz 2560x1600
Active Display Channels 2
3D Vision/3D Vision Pro yes
Feature Support:
Shader Model 5.0
OpenGL 4.4
Microsoft DirectX 11
NVIDIA Multi-OS Technology yes
SLI Mosaic Technology* yes
NVIDIA CUDA Architecture yes
SDI Option yes
G-Sync Option yes
SLI Frame Rendering Support* yes
NVIEW Display Management Software yes
FSAA (maximum)* 64x (128x with SLI)
Number of Slots 2
Audio Support (via DisplayPort) yes
Thermal and Power Specs:
EnergyStar Enabling Yes
Maximum Power Consumption 204 W
Auxiliary Power Cable(s) Required Single 8-pin OR dual 6-pin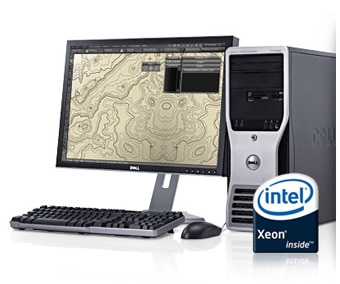 Big performance, small footprint
Operating System: Windows® 7 Professional

Built for environments where space is at a premium, the Dell Precision™ T5500 delivers dual-socket workstation performance in a compact, quiet package.

Incredibly fast and efficient despite its size, the Dell Precision T5500 features dual-socket Intel® Xeon® processor with Intel® QuickPath technology (in which each processor core features an integrated memory controller and high-speed interconnects), as well as support for MS OS option
up to 72GB1 of DDR3 Registered ECC Memory.

For even more stunning levels of performance the optional NVIDIA® Tesla™ C1060 GPU card can be added, creating your own "personal supercomputer" for CUDA-enabled applications.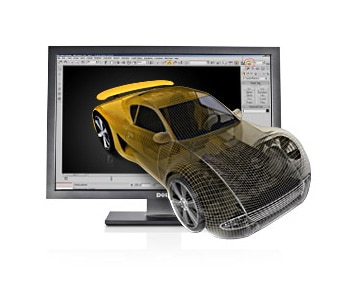 Incredible Graphics Support
Offering two PCIe x16 slots as well as ample power for its range of supported graphics cards, the Dell Precision T5500 works quickly to bring your complex design, animation, imaging or engineering projects to life.

Enjoy peak performance from the latest in workstation-class graphics cards: The Dell Precision T5500 can be equipped with your choice of professional graphics options from ATI® and NVIDIA® .

The Dell Precision T5500 helps ensure superb performance with excellent reliability, by providing tested or certified graphics drivers for a wide selection of workstation applications.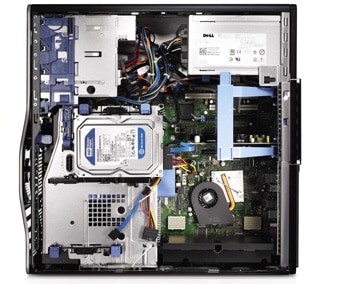 Tuned, Tested and Turbo-Charged
Dell partners with leading independent software vendors (ISVs) to certify system compatibility, ensuring that the certified workstation applications you load onto the Dell Precision T5500 will run gracefully right out of the box.

Dell's advanced thermal engineering and efficient processor heat sinks help to sustain Turbo boost even under extended periods of activity.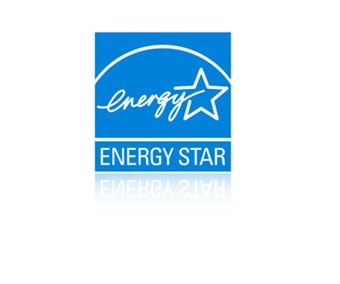 Efficient Design
The Dell Precision T5500 offers a high level of energy efficiency and conforms to major worldwide energy standards, including ENERGY STAR® 5.02, EPEAT® Gold and Blue Angel (Der Blauer Engel) 2009.

Due to advanced motherboard and fan design from Dell, the Dell Precision T5500 provides a highly effective and energy efficient chassis capable of operating quietly even when configured for incredibly demanding tasks.

All new Dell Precision Tower Workstations feature 85% efficient, wide-ranging power supplies for environmentally conscientious computing that doesn't sacrifice on performance.

GPU Specs:
| | |
| --- | --- |
| NVIDIA Quadro GPU | Quadro 6000 |
| CUDA Cores | 448 |
| Form Factor | 4.376" H x 9.75" L / Dual Slot |
| Gigaflops (Single Precision) | 1030.4 |
| Gigaflops (Double Precision) | 515.2 |
GPU Memory Specs:
| | |
| --- | --- |
| Total Frame Buffer | 6 GB GDDR5 |
| Memory Interface | 384-bit |
| Memory Bandwidth (GB/sec) | 144 GB/s |
Display Support:
| | |
| --- | --- |
| Dual Link DVI-I | 1 |
| DisplayPort | 2 |
| # of Digital Outputs | 2 |
| # of Analog Outputs | 1 |
| Stereo (3-pin Mini-DIN) | Yes |
| Maximum Display Resolution Digital @ 60Hz | 2560x1600 |
| Active Display Channels | 2 |
| 3D Vision/3D Vision Pro | |
Feature Support:
| | |
| --- | --- |
| Shader Model | 5.0 |
| OpenGL | 4.4 |
| Microsoft DirectX | 11 |
| NVIDIA Multi-OS Technology | |
| SLI Mosaic Technology* | |
| NVIDIA CUDA Architecture | |
| SDI Option | |
| G-Sync Option | |
| SLI Frame Rendering Support* | |
| NVIEW Display Management Software | |
| FSAA (maximum)* | 64x (128x with SLI) |
| Number of Slots | 2 |
| Audio Support (via DisplayPort) | |
Thermal and Power Specs:
| | |
| --- | --- |
| EnergyStar Enabling | Yes |
| Maximum Power Consumption | 204 W |
| Auxiliary Power Cable(s) Required | Single 8-pin OR dual 6-pin |
- See more at: http://www.nvidia.com/object/product-quadro-6000-us.html#sthash.6zdF4WtG.dpuf